About Us
Toot is a Persian takeaway in Plymouth. Why don't you try our Persian Meatballs or Kibeh?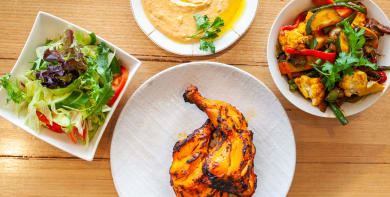 Reviews
71 reviews
Katie
"Salad was missing pomegranate seeds but still great. Thank you!"
19/12/2020
thomas
"Clearly prepared and presented with pride and skill, beautiful food , fresh vibrant and tasty arriving bang on time ."
30/11/2020
Kate
"Amazing food as always"
24/11/2020
Susie
"Wonderful wonderful tasty generous food"
21/11/2020
Menu
Red Bull Energy Drink - 250ml
£1.99
Chelo Koobideh
Two skewers of grilled juicy minced lamb kebab
Gluten free
£10.50
Koobideh with Bread
Two skewers of grilled juicy minced lamb kebab
Gluten free
£9.50
Chelo Joojeh
Delicious grilled juicy saffron chicken
Gluten free
£11.00
Joojeh with Bread
Delicious grilled juicy saffron chicken
Gluten free
£10.00
Kebab Chenjeh
Skewer of grilled marinated tender diced lamb
Gluten free
£12.00
Kebab Royal
Two skewers of grilled juicy minced lamb kebab & saffron marinated chicken
Gluten free
£14.00
Lamb Chops
Persian style marinated tender chops of lamb grilled with saffron rice & grilled tomato
Gluten free
£14.00
Chicken Wings
Persian style marinated chicken wings served with saffron rice & grilled tomato
Gluten free
£12.00
Lamb Burger
Homemade lamb & beef burgers, brioche bun, beef tomato, romaine lettuce, gherkin, fresh onion topped with a sumac mayo, served with patata harara
£10.00
Mixed Grill
One skewer of juicy lamb kebab, one skewer of saffron chicken & grilled tomato
£15.00
Kebab Sharing Platter For Two
Selection of kebab served with saffron rice & grilled tomato
£30.00
Kebab Sharing Platter For Four
Selection of kebab served with saffron rice & grilled tomato
£50.00
Falooda
With a dash of lemon
£4.00
Persian Saffron Ice Cream
Topped with pistachio
£4.00
Freshly Baked Persian Bread
Vegetarian
Vegan
£1.00
Mirza Ghasemi
Barbecued aubergine, garlic, tomato, egg
Vegetarian
Vegan
£4.50
Kashkeh Bademjoon
Fried aubergine, garlic, onion, herbs, yoghurt
Vegetarian
Gluten free
£4.50
Salad Oliveh
Potato, egg, gherkin, peas, chicken, mayo, olive oil
Gluten free
£4.50
Hummus
Chickpea, garlic, tahini, olive oil
Vegetarian
Vegan
Gluten free
£4.50
Dolmeh
Vine leaves stuffed with rice & herbs
Vegetarian
Vegan
Gluten free
£4.50
Falafel
Balls of chickpeas, parsley, garlic
Vegetarian
Vegan
£4.25
Persian Meatballs
Cinnamon flavoured ground lamb & beef in a tomato sauce
Gluten free
£4.50
Mast-o-Khiar
Creamy yoghurt, chopped cucumber, mint, olive oil
Vegetarian
Gluten free
£4.00
Tabbouleh
Finely chopped parsley, mint, tomato, cracked wheat, lemon juice & olive oil
Vegetarian
Vegan
£4.25
Mini Kofte Kebab
Served with a sumac mayo
Gluten free
£4.50
Patata Harara
Spicy potatoes dressed with tahini & spicy harissa
Vegetarian
Vegan
Gluten free
£3.50
Spinach Bourani
Creamy yoghurt with fried spinach
Vegetarian
Gluten free
£4.00
Starters Sharing Platter Four Starters
£15.00
Starters Sharing Platter Eight Starters
£25.00
Vegan Stuffed Bell Pepper
Oven baked pepper stuffed with rice & lentils in a tomato sauce
Gluten free
£10.00
Vegan Ghormeh Sabzi
Finely chopped herbs, fried & cooked with kidney beans & sundried lime in a sauce served with saffron rice
Gluten free
£11.00
Vegan Gheymeh Bademjan
Fried aubergine, lentils, sundried limes in a tomato sauce served with saffron rice
£11.00
Vegan Falafel Salad
Romaine lettuce, sweet Italian cherry tomatoes, baby cucumber, olives, avocado, pomegranate, pickled turnip topped with falafel patties & dressed with lemon & olive oil
Gluten free
£10.00
Vegan Falafel Burger
Homemade falafel burger, toasted bun, romaine lettuce, beef tomato, gherkin, fresh onion dressed with tahini & spicy harissa served with patata harara
£10.00
Ghormeh Sabzi
Finely chopped herbs, fried & cooked with kidney beans & sundried lime with tender pieces of diced beef
Gluten free
£12.00
Gheymeh Bademjan
Fried aubergine, lentils, sundried lime, tender pieces of diced beef in a tomato sauce
Gluten free
£12.00
Persian Meatballs
Delicious cinnamon flavoured lamb & beef meatballs in an aromatic tomato sauce
Gluten free
£10.00
Fesenjoon
What the royals eat!!
A stew of tender duck, ground walnuts in a pomegranate sauce, delicious
Contains nuts
Gluten free
£15.00
Contact Us
Find Us
46 Mayflower Street, Plymouth, PL11QX
We deliver to
PL1, PL2, PL3, PL4, PL5, PL6